THE LADY IN THE VAN: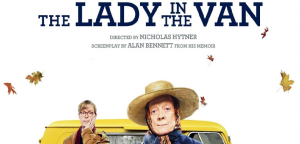 Friday, March 11– 7 pm,
Saturday, March 12 – 4 & 8 pm,
Sunday, March 13 – 4 & 8 pm,
Wednesday, March 16 – 7 pm,
and Thursday, March 17 – 7 pm.
Playwright Alan Bennett forms an unexpected bond with Miss Shepherd (Maggie Smith), a woman of uncertain origins who "temporarily" parked her van in Bennett's London driveway and proceeded to live there for 15 years. [Sony Pictures Classics]
Insider's tip: "This English film, directed by Nicholas Hytner, is also wonderfully funny, terribly touching and a vehicle . . . for the boundless gifts of Maggie Smith" (Joe Morgenstern, Wall Street Journal). Gregory Elwood of Hitflix adds: "It's simply a very well done movie that features Maggie Smith's best work in years (and, yes, she's better here than any of her years on "Downton Abbey")." Maggie Smith has had an extensive, varied career in stage, film and television spanning over sixty years, during which time she garnered 43 wins from 86 nominations for her work. Nominated by three organizations including the Golden Globes, Maggie Smith was awarded Best Actress by The Evening Standard British Film Awards for this film.