FIRST MAN: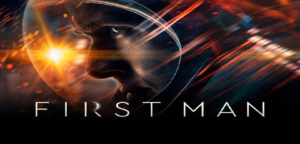 Friday, November 16 – 7 pm / 
Saturday, November 17 – 4 pm & 7:30 pm / 
Sunday, November 18 – 4 pm & 7:30 pm / 
Wednesday, November 21 – 7 pm / 
Thursday, November 22 – closed for Thanksgiving. Happy Thanksgiving!
First Man is the riveting story of NASA's mission to land a man on the moon, focusing on Neil Armstrong (Ryan Gosling) and the years 1961-1969. A visceral, first-person account, based on the book by James R. Hansen, the movie will explore the sacrifices and the cost – on Armstrong and on the nation – of one of the most dangerous missions in history.
Insider's tip: "It is immersive, engaging and dizzying filmmaking" (Barry Hertz, The Globe and Mail (Toronto). John Nugent, Empire, adds: "Astonishing. The definitive take on a monumental moment in history — without ever losing sight of the man underneath the visor." David Edelstein, New York Magazine (Vulture): "First Man might be the most grounded space movie ever made — grounded in the tension between technology that's almost laughably fragile (the astronauts really do seem as if they're going up in tin cans) and the sheer evolutionary imperative of family." Ty Burr, Boston Globe, "First Man plays a different and arguably more rewarding game, one that looks for the man behind the hero. It's a movie that shows how the most personal moments can coexist within and alongside the most momentous events. It's a film that insists history is made from private lives."
FIRST MAN is a Metacritic.com "Must See."
FIRST MAN has 3 wins and 3 additional nominations for excellence.