ETERNALS: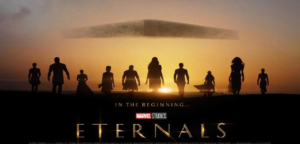 Friday, November 5 – 3:45 pm & 7:15 pm / 
Saturday, November 6 – 3:45 pm & 7:15 pm / 
Sunday, November 7 – closed 
Monday, November 8 – 3:45 pm & 7:15 pm / 
Thursday, November 11 – 7:15 pm /
Marvel Studios' Eternals features an exciting new team of Super Heroes in the Marvel Cinematic Universe, ancient aliens who have been living on Earth in secret for thousands of years.  Following the events of Avengers: Endgame, an unexpected tragedy forces them out of the shadows to reunite against mankind's most ancient enemy, the Deviants.
Starring: Angelina Jolie, Barry Keoghan, Brian Tyree Henry, Dong-seok Ma, Gemma Chan, Gil Birmingham, Haaz Sleiman, Kit Harington, Kumail Nanjiani, Lauren Ridloff, Lia McHugh, Richard Madden, Salma Hayek
"Chloé Zhao gives the MCU just the kick in the pants it needs at this phase in its evolution" (Neil Smith, Total Film).
CRITICS CONSENSUS: (RottenTomatoes.com)
An ambitious superhero epic that soars as often as it strains, Eternals takes the MCU in intriguing — and occasionally confounding — new directions. Read critic reviews
AUDIENCE CONSENSUS: (RottenTomatoes.com)
It's a different kind of Marvel movie, but Eternals still contains all the action, humor, and heart that fans are looking for. Read audience reviews
INSIDER TIP:
Definitely see it for yourself, as the overwhelming majority of the audience is apparently very pleased.  Your appreciation and experience of the film may be enhanced by the following article: How Marvel's 'Eternals' got their mythic names (mashable.com)
METACRITIC SCORE:  53 (Metacritic.com)
IMDb RATING:  6.9/10 (IMDb.com)

TOMATOMETER:  47% (RottenTomatoes.com)
AUDIENCE SCORE:  81% (RottenTomatoes.com)